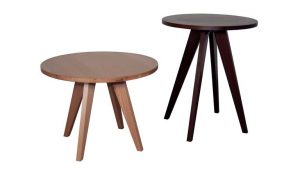 The elegance of timber in a design coupled with a distinctive powder-coated steel plate fixing system binds legs and surface together in dramatic style.
Specifications
Frame Finishes
• Powder-coated mild steel
• Powder-coated stainless steel
Table Top Finishes
• Select solid timbers
• Timber veneer
• Stone engineered and natural
Standard Sizes
All finished height with tops 750mm
• Round 900mm diameter
• Round 1100mm diameter
• Round 1300mm diameter
• 1800 x 850mm
• 2100 x 850mm
• 2400 x 850mm
Note: Custom sizes available. Minimum quantity may apply.